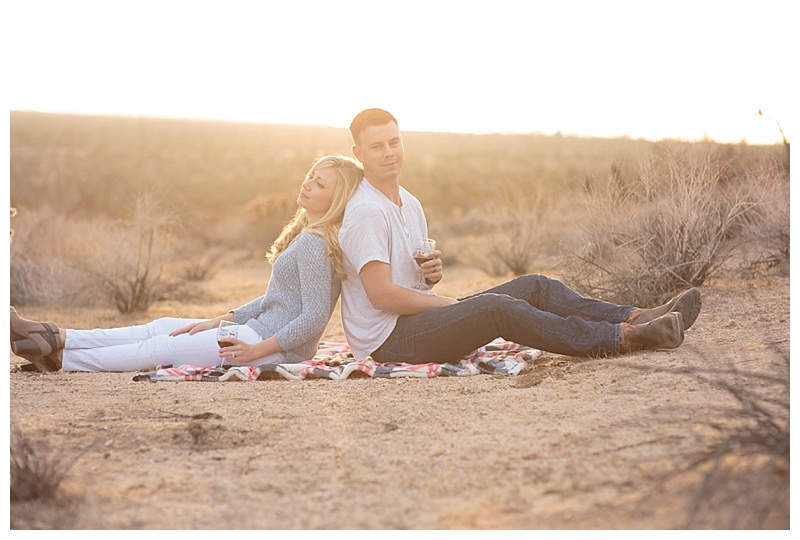 ---
Twentynine Palms Couples Photographer:
Creative Desert One Year Anniversary Session
---
When Sara contacted me to photograph her one year anniversary session, I was thrilled! A couples session may be my absolute favorite type of photography! When we met for Starbucks to discuss the one year anniversary session, I told Sara that I love to capture real moments and authentic connections. I told her that a great way to bring out those real moments is to have "something to do." One of the ways I've done that in the past is to bring coffee, mugs, and a blanket to a session. But Sara already had an amazing idea in mind…
At their wedding, Sara and Zach asked their closest family and friends to write messages and place them in each of six milk bottles that would be opened on each of their first six wedding anniversaries. Sara explained that she wanted to open the first milk bottle during their session! What a fabulous idea! She also thought to bring along a special bottle of wine that had been a wedding gift and wine glasses, a gift from her mother! The scene was set for a beautiful and fun session!
We started the session at a great rocky location just outside of Joshua Tree National Park and got some shots with their pup, Lexie. After a quick outfit change, we proceeded to a huge field of joshua trees for the big milk bottle reveal! Zach and Sara were so relaxed and natural. Their love just shines in these portraits and I can tell you it is very real! Though life is full of ups and downs, I know these two will have a lifetime of anniversaries to celebrate. I hope these portraits will always remind them of their first one!