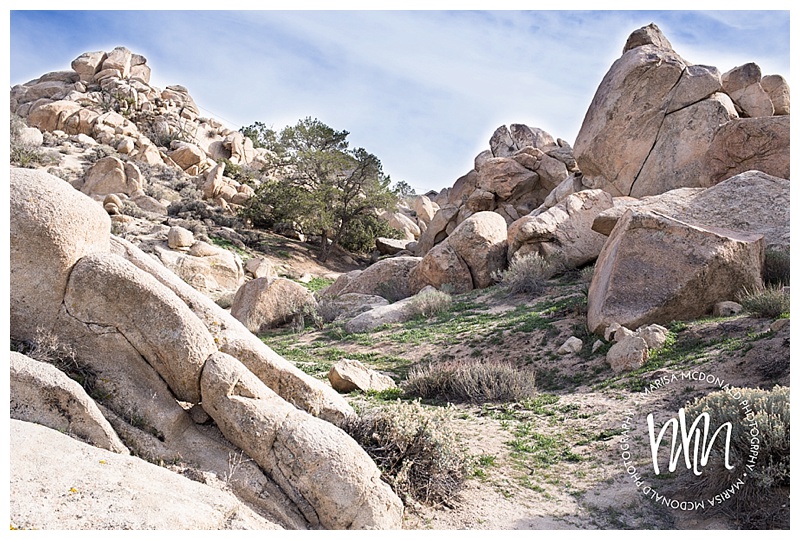 Dream Catcher Ranch: Marisa McDonald Photography Small Business Feature
After admiring the beautiful Dream Catcher Ranch online for the past year, I finally had an opportunity to visit during last weekend's Morongo Basin Parade of Homes and let me tell you…it did not disappoint! Nestled on 5 acres of beautiful desert landscape in the hills of Yucca Valley, Dream Catcher Ranch is available both as a vacation rental and as a wedding and event venue. The Ranch is not simply beautiful construction beautifully decorated – it is truly a work of art. Owners Kiyomi and Rey Ortega have poured their heart and soul into every last detail of the home from the floor designed from 125,000 pennies to the life like trees "growing" along the walls.  Beyond the beauty of the owner's artistic touch, natural beauty awaits just outside. The back patio is cozy and private thanks to a natural wall of giant rocks reminiscent of the most picturesque spots in Joshsa Tree National Park.  Just beyond the main house, a desert path leads to a quaint and cozy guest cottage and a day's worth of desert to explore – both perfect for a getaway from the big city.
Who are your clients and what do you love about them?
Vacation Rental clients tend to be LA Couples looking to get out of the city for the weekend. They are looking for someplace unique, artsy, away from normal daily city life.
I Love meeting new and interesting people.
Creating a fantasy place where people can escape to and have an Amazing experience.
Having time to work on all the projects I would like to do.
The vision.
Being able to do what I Love.
I love inspiring people to do what They Love.
All the antique shops