Weekend Report: Joshua Tree National Park and 29 Palms Inn
The next installment of the Weekend Report is here and this week takes us into Joshua Tree National Park and the 29 Palms Inn! If you're anywhere in Southern California, you definitely need to make this a must-do bucket list item! Joshua Tree National Park is an easy day trip or weekend getaway from just about anywhere in So Cal!
Last weekend we had family in town visiting from Washington State so we had to venture into the park for some desert adventuring. Rumor has it Barker Dam is amazing right now after all the rain fall so we headed straight for the Joshua Tree entrance to the park. Unfortunately everyone else had heard the rumor too and the line was MILES long to get in! We aren't big waiters so we quickly re-routed to 49 Palms Oasis. We had never been to this spot before so we didn't quite know what we were in for. Weather was beautiful and parking was lined up down the road. We joined the line and headed towards the trailhead. Without taking one step onto the trail, the scene was already quite impressive. We started up the trail with 4 kids in tow. At every turn, we were rewarded with bigger and more impressive views of the desert below. It took us almost an hour to make it half a mile with the little ones. Knowing we still had a mile to go to the Oasis and that the kids would soon be hangry, we decided to call it "good enough" and start the hike back down.
Lunch was a high desert favorite at 29 Palms Inn. I had my favorite steak salad and La Quinta Brewing Co. Poolside Blonde. The kids took a walk around the Oasis of Mara while we waited for our order. It was the perfect refreshing break after putting in some time in the park.
The next day we headed out for something a little more flexible that would still allow us to enjoy the beauty and adventure of the park. We headed in the 29 Palms entrance and stopped pretty quickly at Split Rock. This was the PERFECT  place to let the kids explore and scramble around the rocks. Low flat rocks were perfect for the younger kids, bigger boulders for the big kids, and even giant peaks for the dads to show off!
Have fun checking off that bucket list! See you soon for another weekend report!
If you missed last weekend's report you can find it over here!
Want to join the email list to make sure you never miss an update? Head on over here and confirm your subscription in your email!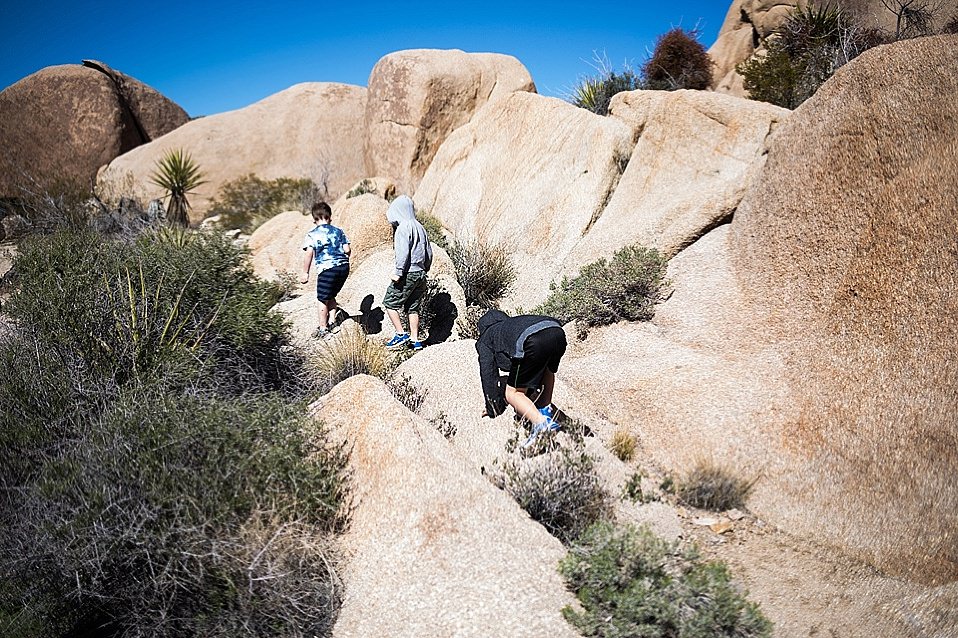 Pin SITE IMAGE________


Pin SITE IMAGE________


Pin SITE IMAGE________


Pin SITE IMAGE________


Pin SITE IMAGE________


Pin SITE IMAGE________


Pin SITE IMAGE________


Pin SITE IMAGE________


Pin SITE IMAGE________