Top Six Holiday Gift Ideas You Can Purchase Online and Still "Shop Small" and GIVEAWAY!!
****IMPORTANT: Make your way through these great gift ideas to the end of this post for a chance to win one of these items!*****
If you've been following me for any amount of time, you know I have a passion for supporting my fellow small business owners, locally in the desert and beyond. Within the 12 or so blocks that comprise my neighborhood alone, I know *at least* 10-15 ladies who are totally rocking some amazing small businesses and I love to get together, build synergy, and support each other!
You may have seen the cute meme going around lately…"When you buy from a small business, an actual person does a real happy dance." I LOVE this! Just think about your hard earned money being put to work as a force for happiness during the holidays…the person who receives your gift smiles and the person who stays up late at night making sure your gift is perfect also smiles. Hopefully this all makes you smile too! Win! Win! Win!
"When you buy from a small business, an actual person does a real happy dance."
Without further ado my top six Holiday Gift Ideas!!
These adorable and cozy Blanket Scarves from Jena Boom are perfect for any teacher, friend, neighbor, sister….gosh just about anybody. I love how they are pretty universally useful but yet still look and feel like a special holiday gift for less than $25. Shop Jena Boom locally in the desert or in her online shop for delivery anywhere! She carries gorgeously curated collection of accessories, women's clothes, and even decorative housewares.
You can find Jena Boom at…
Web         Instagram        Facebook      Pinterest
Beck & Co. specializes in rustic home decor and has recently started offering some fabulous "take and make" kits so you can make your very own wood signs in your own home. I have already had the pleasure of using one of these new kits and they are so easy to work with…literally everything you need is in this little box.  I think the take and make kits would make the perfect gift for the crafty person in your life. If you happen to be a crafty person yourself, why not buy the kit, make the sign, and gift something handmade from the heart to that special someone?! I love this "Jingle All The Way" sign that is available as an already made sign or as a take-and-make kit. Kits start at $25.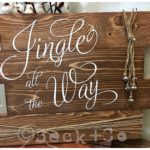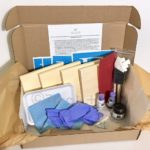 You can find Beck & Co at….
Web       Instagram       Facebook      Facebook Private Group
I LOVE the smell of Thieves cleaner and knowing that its actually cleaning away the germs without all the harsh chemicals.  Although its very practical, its amazing smell makes it feel luxurious. Add a cute dish towel from Jena Boom, and you've got a cute, useful, and luxurious gift for anyone on your list! In fact, you might just need an extra for yourself! Stephanie carries tons of great products from Young Living and she also offers some amazing essential oil education classes and take and make opportunities for those of you who are local in the desert! Hint: When you attend one of her classes or events, you'll get more than essential oils…you'll also get some delicious food! (You will not be disappointed!). Thieves cleaner is a concentrated product from which you can make 40 bottles of cleaner for $28.95.
You can find Stephanie at…
Here is what I love about this Amelia dress. First of all it comes in about a million different colors and patterns so you're sure to find one that looks just right for everyone on your gift list. Its also got a great stretchy knit fabric that is comfortable enough to wear all day but also structured and tailored enough for the office or a nice nigh tout. And….you guys….it has POCKETS! Bonus for breastfeeding moms…this dress can be worn forwards or backwards so that the zipper can be in front to accommodate feedings! Helen carries a great inventory of Lula Roe Products that can be shipped anywhere so be sure to check her out! Amelia dresses from Helen are $68.

You can find Helen at…
These ladies busted onto the small business scene here in the desert just a few months ago but they came out with a bang with these super stylish earnings! I love how unique and versatile these are…they can easily go from dressy to casual and would be perfect for anyone on your list! If you know someone who can't usually handle the weight of "statement" earnings, these are perfect! So lightweight yet stylish! In fact, I just ordered the earnings displayed below for myself! Can't wait! Earnings start at $10.

You can find Jane & Cope at….
Loveliesinfull carries the most beautiful encouraging embroidered hoops and fabric decor. I just love the way you can create a gallery of these gorgeous fabric and embroidery hoops. The embroidery hoops are a sweet way to convey sentimental messages as part of your gift giving and adding in mix and match fabric hoops can really take a sweet and simple gift to a whole new level! Best of all? She takes custom orders! Have a favorite word or quote or saying, she can create a beautiful piece for you! Embroidered hoops start at $18 while fabric hoops start at $12.
You can find Loveliesinfull at:
Etsy         Instagram         Facebook        Pinterest
Giveaway Time!!!
To be entered to win one of these items, please do two things: 1) Please leave a comment below stating which of the above gifts you would love to give or receive. Don't worry if your comment doesn't pop up right away (I will approve them). 2) click on the picture below to subscribe to get updates from Marisa McDonald Photography and get your free "Capturing Magical Christmas Moments at Home" Guide from Marisa McDonald Photography. Giveaway ends on Monday December 12th at noon. Winner will be announced on Facebook on Monday evening.