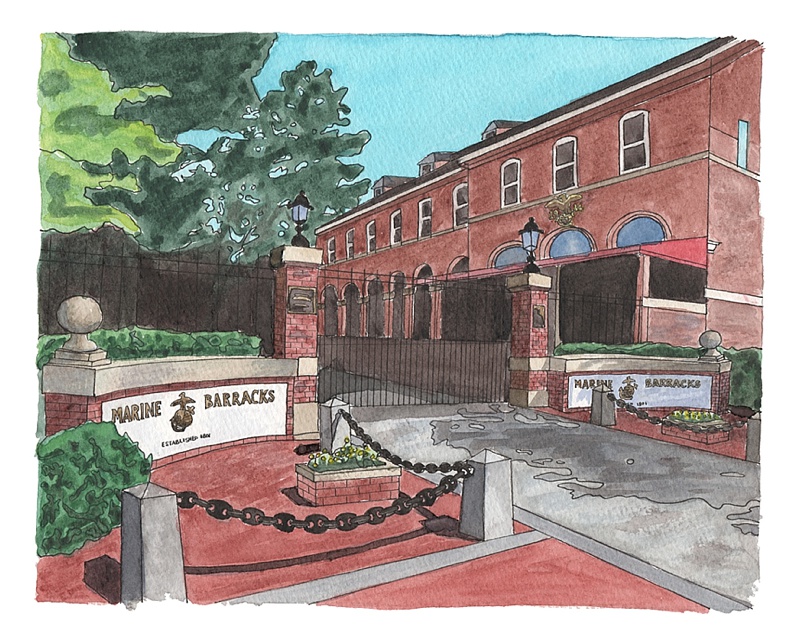 Marisa McDonald Photography Small Business Feature: Betsy Hackett
2/13/16 Update: Pre-order link for "We Call Them Home, A Collection of Marine Corps Watercolors is now available:
https://betsy-hackett.tilt.com/we-call-them-home-…/…/payment (Use LOCALPICKUP as a coupon code to waive shipping!)
If you know me personally, you know that I have moved quite a bit in my life. While moving can be challenging it also brings the joy of meeting new people, discovering knew places in each place I live. One of the things I enjoy the most about a new place is discovering unique small businesses. In fact, I love this so much that I start doing it before I even get to the new place. Actually I've even done it for places I *might* go one day.  How do I find these unique businesses? Well, if they have a physical presence, I might google map around where I'll be staying or living or I might discover them while walking around a downtown area. I also tend to "like" small business Facebook pages in hopes that I will remember them when I have time to check them out or a need for their services. When I was first a stay at home mom with a toddler, I was that friend that was always keeping everyone informed of local happenings. It was kind of a running joke..I really should have started a newsletter!
Now as a small business owner I have an added appreciation for the heart and passion that goes into starting and running a business so I've decided to use my blog space to encourage and support my favorite local businesses by sharing their stories with all of you! Some businesses owners have a hard time marketing their business because it is too close to home and feels too much like bragging. I'm taking it on myself to brag for them! First up on the blog is my friend Betsy Hackett and I could not be more excited to share this talented lady with you!
"I'm just like everyone else…
and 100% just me all at the same time."
Betsy specializes in fine art commissions and prints. Her graphite drawings are beautifully engaging and her watercolors are inspiring. She may be best known for her "We Call Them Home" series of prints, beautifully depicting the front gate of each Marine Corps base.  Although I have zero drawing or painting ability, Betsy and I have a lot in common. We are both moms with young children and runners and we share a love for photography (Betsy loves macro, landscape, and event photography). But beyond that, we also both had vary uncommon paths to our current artistic businesses…
Art has always been a part of Betsy's life. Even in Kindergarten she was drawing beyond her years and by the age of 9 had entered her first photography competition.  In high school and college she was inspired to take art classes in a variety of mediums and bought her first SLR camera. Despite the constant of art in her life, she never thought of doing it as a business. Betsy graduated from a highly regarded engineering college and worked for both the Department of Defense and a manufacturing company after graduation. As an adult she re-discovered watercolors while trying to help out an organization for military spouses. Betsy started accepting commissions to create watercolor depictions of houses based off photographs and her hobby was born. It wasn't long before people were actually asking to BUY her work! Between commissions, she began creating prints of each Marine Corps front gate and the "We Call Them Home" series was born. Today Betsy Hackett is a registered business awaiting a trademark license from the Marine Corps so that she can launch a coffee table book for the "We Call Them Home" series! I am so excited about this! Prepare yourself Betsy: I will be banging down the doors the day that is ready!
Check out my interview with Betsy below to learn a little more about this amazing local (and nationwide) business!
Who are your customers and why do you love them?
Overall, most of my customers are military spouses – but I believe that's because I am a very small business owned by a military spouse! Since I offer 2 types of artwork, I have two kinds of clients: those who love my pieces and want a print for their homes (who I love because they love my work!!) and those who want to commission a piece (who I love because I find such joy in making their vision a reality – it's a challenge that gives me great joy!).
Why did you decide to start this business?
I decided to start a Fine Art Commissions and Prints business because putting pencil and paint to paper is like therapy for me. A release that makes me a better person, and I find the most joy in making art for others, rather than myself. And what better business to have than one that makes you a better person?!?
What is the most rewarding thing about your business?
I really, truly, enjoy making other people's visions come to life and making something that both of us are proud of. I also really love the person I am when I paint and/or draw – the emotional release, the stress relief… it is so valuable to me.
What do your clients love about you?
I would GUESS that my clients love how QUICKLY I can get things done though. That's my most-received compliment. That I make exceptional, detailed, accurate artwork quickly.
I am proud that I completed my book "We Call Them Home." I self-designed the book, found a printer, incorporated my business and have applied for a trademarking license to make the sale of the book possible. That is a huge accomplishment for me! I definitely wanted to call it quits a few times a long the way, but I stuck with it.
Who is Betsy behind the scenes? 
I'm a mom, a wife, a runner, a business owner, an artist and more. I market watercolors and graphite sketches, but I do most types of artwork. I am very proud of my oil, acrylic and pastel pieces. My next challenge is to become comfortable doing portraits in a variety of mediums. I am a photographer. I enjoy macro photography most, followed by landscape, and recently learned I have a love of "event photography". I have done photo restoration, major digital editing, digital artwork from photography, and mixed photography with classical art techniques. I enjoy graphic design enough I almost went back to school for it. But it's not all about classic art for me either. I knit. I crochet. I sew – blankets and garments. I design my own patterns. I cook and bake. I dance (usually like no one is watching) and enjoy ballet, Scottish step dancing and Zumba! When I'm truly happy, I dance around my house.
"I dance (usually like no one is watching)"
I am a Roman Catholic and believe God loves us all, is truly all-powerful and has a plan. Many plans, in fact, based on the choices of our free will. And I want to be loved just as much as everyone else, through my mis-steps and times of stuggle (self-inflicted and not), and through my times of great joy. I'm just like everyone else… and 100% just me all at the same time.
What are some of your favorite local businesses?
I hope you enjoyed meeting Betsy as much as I have. You can enjoy some of Betsy's amazing artwork below and please "like" her on Facebook at www.facebook.com/soemthingbetsy. You can see more of her work at http://www.betsyhacket.com/. See you next week for another small business feature! If you're a small business local to Twentynine Palms, Joshua tree, or Yucca valley and you'd like to be featured, please send me a message at marisa@marisamcdonaldphotography.com for more information!