San Marcos Lifestyle Newborn Photography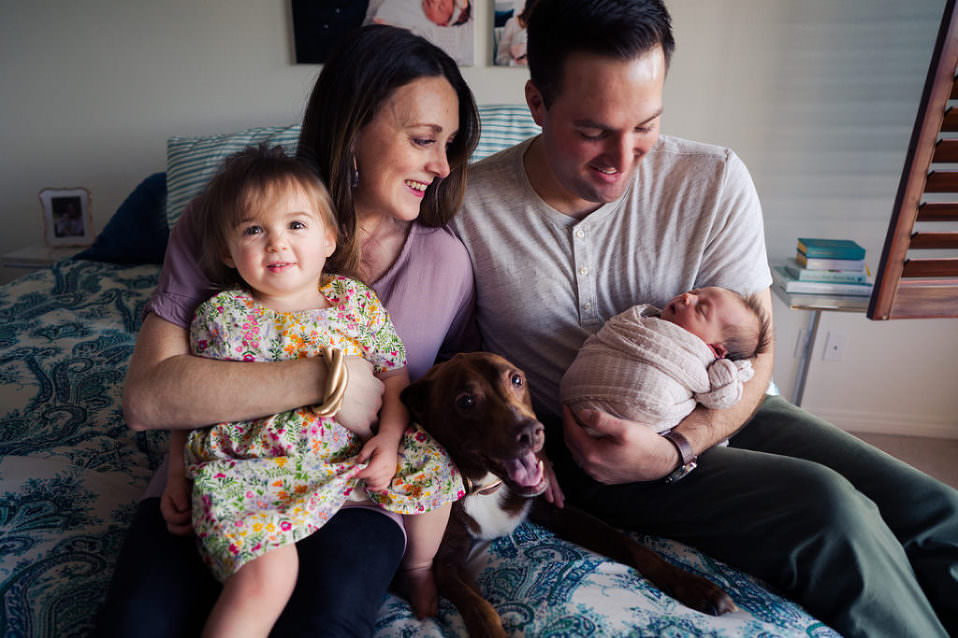 San Marcos Lifestyle Newborn Photography ⎮In-Home Mobile Newborn Photography
I just loved meeting this sweet little family! When I arrived at their home, I started with a tour of the areas we might use as a setting for our session and the FIRST thing I noticed was that Mom & Dad had prominently displayed canvas from their last lifestyle newborn photography session right over the master bed! I can't tell you how much I LOVE this! They did not live here when their first child was born and I was not their photographer then but I love knowing that a family is going to actually use and display their photos! Oh and by the way here's an awesome take on why displaying photos of your children is so amazing! Also I thought those canvas just made a great backdrop for our photos celebrating baby girl #2!
This session is a great example of why I love lifestyle newborn photography. I love that big sister was able to stay in her comfort zone at home and Rio the dog was able to join the whole family for a few shots too! This is what in-home newborn photography sessions are all about…baby as part of the family and the home!
Scroll on down for a sampling of the images I took during this sweet session. I hope you enjoy all of the love and sweetness this family has to offer.


















By the way this month I'm participating in a blog circle with some super talented photographers and I have the honor of sharing St. Albans Family Photographer, Tori Deslauriers. All of you moms will enjoy her post about how to photograph a ghost! Let's just say it's not what you think!
Marisa specializes in lifestyle newborn photography in Oceanside and throughout San Diego and Orange County, including Encinitas, Solana Beach, North Park, Hillcrest, San Clemente, Fallbrook, Vista, Poway, Scripps Ranch, Rancho Penasquitos, UTC, La Jolla, 4S Ranch, and Carlsbad. Marisa puts an emphasis on real, authentic images that remind you of YOU! SO snuggle up and let's create some memories you'll treasure for a lifetime!